Wisdom Teeth Removal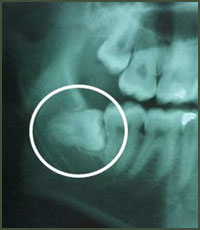 By the age of 18, the average adult has 32 teeth. However, the average mouth is made to hold only 28 teeth. The four "trouble makers" are your Third Molars, also known as "wisdom teeth."
Wisdom teeth do not have to be removed if they come in and align properly. Unfortunately, this does not generally happen. The extraction of wisdom teeth is necessary when they:
Are prevented from properly erupting within the mouth.
Only partially emerge from the gum.
Remain trapped beneath the gum and bone causing inflammation.
Show evidence of associated pathology (cysts), infection, or cavity development.
Impacted or partially erupted teeth can cause many problems, including bacteria growth from the gum opening around the tooth eventually causing infection and pain. When cysts form around the impacted wisdom tooth this may destroy the jawbone and healthy teeth.
Removal of the offending tooth or teeth usually resolves these problems. Early removal is recommended to avoid future problems and to decrease the surgical risk involved with the procedure.
Wisdom Tooth Oral Examination

With an oral examination and x-rays of the mouth often using 3-D Scanning, Dr. Krochmal can evaluate the position of the wisdom teeth and determine if there is a present or risk of future problems. Studies have shown that early evaluation and treatment result in a superior outcome for the patient. Patients are generally first evaluated in the mid- teenage years by their dentist, orthodontist or an oral and maxillofacial surgeon.
Our patients benefit from:
Comfort during surgery through the use of nitrous oxide analgesia as well as intravenous anesthesia.
An experienced surgical team of professionals who are committed to making your experience as easy and comfortable as possible.
The highest standards of instrument sterilization and autoclave monitoring.

If you are in need of dental care that requires Oral and Maxillofacial Surgery and Dental Implants, please call us at (757) 440-7777. Thank you.

Norfolk Oral Surgery and Implant Center and Dr. Krochmal proudly offer the following services:
Dental Implants, Wisdom Teeth Removal, Dental Extractions, Preprosthetic Surgery, Bone Grafting, and Surgical Root Canals. Dr. Krochmal's advanced training in anesthesia allows us to provide quality care with maximum patient comfort and safety in our office setting.
We serve Norfolk, Portsmouth, Virginia Beach, Chesapeake, Hampton Roads and the Virginia Peninsula. Please contact our oral and maxillofacial surgery office at (757) 440-7777.