Surgical Root Canals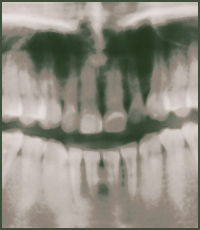 Normally, a tooth that has undergone root canal therapy can last indefinitely without needing further treatment. However, in some cases, the tooth can fail to heal and become painful or diseased months or even years after successful endodontic treatment.
Oral surgery can be performed to treat the tooth and resolve the abscess when a root canal is unsuccessful.
In these cases, Dr. Krochmal will either treat the damaged roots and surrounding bone, or surgically remove the tooth.
Although there are many surgical procedures that can be performed to save a tooth, the most common is called an Apicoectomy. This is performed when inflammation or infection persists in the bone area around the end of your tooth after a root canal procedure.
When a tooth cannot be saved, it must be extracted and replaced with an implant, bridge, or removable partial denture to restore chewing function and esthetics, and prevent adjacent teeth from shifting.
Our surgical root canal surgery patients benefit from:
Comfort during surgery through the use of several anesthesia options including nitrous oxide analgesia and intravenous anesthesia.
An experienced surgical team of professionals who are committed to making your experience as easy and comfortable as possible.
The highest standards of instrument sterilization and autoclave monitoring.
A commitment to work cooperatively with your dentist to provide the highest quality of care.

If you are in need of dental care that requires Oral and Maxillofacial Surgery and Dental Implants, please call us at (757) 440-7777. Thank you.
Norfolk Oral Surgery and Implant Center and Dr. Krochmal proudly offer the following services:
Dental Implants, Wisdom Teeth Removal, Dental Extractions, Preprosthetic Surgery, Bone Grafting, and Surgical Root Canals. Dr. Krochmal's advanced training in anesthesia allows us to provide quality care with maximum patient comfort and safety in our office setting.
We serve Norfolk, Portsmouth, Virginia Beach, Chesapeake, Hampton Roads and the Virginia Peninsula. Please contact our oral and maxillofacial surgery office at (757) 440-7777.