Bone Grafting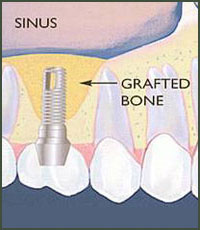 Dr. Krochmal performs bone grafting operations to repair implant sites that have inadequate bone structure due to previous extractions, gum disease or injuries. The bone is obtained from a tissue bank, your own body, or synthetic bone substitute.
Major bone grafts are typically performed to repair defects of the jaws. These defects may arise as a result of traumatic injuries, tumor surgery, or congenital defects.
Sinus bone grafts are also performed to replace bone in the posterior upper jaw in preparation for dental implant placement. In addition, we may use special membranes that protect the bone graft and encourage bone regeneration. This is called guided bone regeneration or guided tissue regeneration.
These procedures may be performed by Dr. Krochmal in the office or a hospital setting.
Sinus lift graft procedure
The sinus lift graft procedure makes it possible for many patients to have dental implants when years ago there was no other option other than wearing loose dentures.
Here's a quick look at the procedure. Dr. Krochmal enters the sinus from where the upper teeth used to be. The sinus membrane is then lifted upward and donor bone is inserted into the floor of the sinus. Keep in mind that the floor of the sinus is the roof of the upper jaw. After several months of healing, the bone becomes part of the patient's jaw and dental implants can be inserted and stabilized in this new sinus bone.
Our bone grafting patients enjoy:

Comfort during surgery through the use of several anesthesia options including nitrous oxide analgesia and intravenous anesthesia.
An experienced surgical team of professionals who are committed to making your visit as easy and comfortable as possible.
The highest standards of instrument sterilization and autoclave monitoring.
A commitment to work cooperatively with your dentist to provide the highest quality of care.

If you are in need of dental care that requires Oral and Maxillofacial Surgery and Dental Implants, please call us at (123) 456-7890. Thank you.
Norfolk Oral Surgery and Implant Center and Dr. Krochmal proudly offer the following services:
Dental Implants, Wisdom Teeth Removal, Dental Extractions, Preprosthetic Surgery, Bone Grafting, and Surgical Root Canals. Dr. Krochmal's advanced training in anesthesia allows us to provide quality care with maximum patient comfort and safety in our office setting.
We serve Norfolk, Portsmouth, Virginia Beach, Chesapeake, Hampton Roads and the Virginia Peninsula. Please contact our oral and maxillofacial surgery office at (757) 440-7777.