TMJ Disorders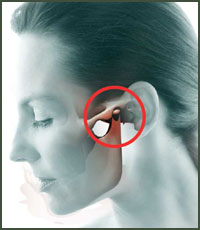 TMJ disorders can be cause by a variety of actions. You might clench or grind your teeth, which tightens your jaw muscles and stresses your TM joint. You may have a damaged jaw joint due to injury or disease such as arthritis, which damages the jaw joint directly or stretches or tears the muscle ligaments. As a result, the disk, which is made of cartilage and functions as the "cushion" of the jaw joint, can slip out of position resulting in a misaligned bite, pain, clicking or grating noise when you open your mouth, or trouble opening your mouth wide.
Dr. Krochmal will provide a comprehensive treatment plan to achieve the goal of maximum jaw comfort and function. Often patients with diagnosed temporomandibular joint dysfunction can be helped with custom fabricated removable mouth splints.
Symptoms of a TMJ Disorder
Grinding or clenching your teeth.
Wake up with sore, stiff muscles around your jaws.
Frequent headaches or neck aches (does the pain get worse when you clench your teeth?)
Jaw clicks, pops, grates, catches, or locks when you open your mouth.
Difficult or painful to open your mouth, eat or yawn.
Hard to use your front teeth to bite or tear food.
Our TMJ Disorder patients benefit from:
Comfort during surgery through the use of several anesthesia options including nitrous oxide analgesia and intravenous anesthesia.
An experienced surgical team of professionals who are committed to making your experience as easy and comfortable as possible.
The highest standards of instrument sterilization and autoclave monitoring.
A commitment to work cooperatively with your dentist to provide the highest quality of care.

If you are in need of dental care that requires Oral and Maxillofacial Surgery and Dental Implants, please call us at (757) 440-7777. Thank you.


Norfolk Oral Surgery and Implant Center and Dr. Krochmal proudly offer the following services:
Dental Implants, Wisdom Teeth Removal, Dental Extractions, Preprosthetic Surgery, Bone Grafting, Surgical Root Canals, and Facial Trauma. Dr. Krochmal's advanced training in anesthesia allows us to provide quality care with maximum patient comfort and safety in our office setting.
We serve Norfolk, Portsmouth, Virginia Beach, Chesapeake, Hampton Roads and the Virginia Peninsula. Please contact our oral and maxillofacial surgery office at (757) 440-7777.